As part of my usual CES vendor visits, I caught up with Synology and took a look at the new products and DSM features that had been announced around the show's timeframe. The most interesting product was their second generation Wi-Fi router – the RT2600ac. A few business-oriented NAS products were also on display. The new DSM 6.1 (beta at CES, now in the final release candidate stage) and some value additions were also seen at the booth.
Synology RT2600ac Wi-Fi Router
A follow-on to the Broadcom-based RT1900ac launched in 2015, the RT2600ac makes the move to a Qualcomm Atheros platform. The AC2600 platform has been around since 2015. Synology has again opted not to ship a cutting-edge hardware platform. While the first set of AC2600 routers used a Qualcomm Atheros QCA9980 radio along with a 1.4 GHz IPQ8064 SoC for network processing duties, Synology's 2017 entry has allowed them to go for a slightly more modern platform. The radio is the QCA9984 – it sports specifications similar to the QCA9980 (4×4:4 802.11abgn+ac), with the primary difference being support for 160MHz-wide channels. Note, however, that the maximum data rate possible is still only 1.7 Gbps because the radio doesn't support four spatial streams in the 160MHz mode. The network processor is the IPQ8065 – a higher-clocked version of the IPQ8064 used in the first set of AC2600 routers. The IPQ8065's dual-core Krait CPU and the network accelerator blocks operate at 1.7 GHz and 800 MHz respectively (compared to the IPQ8064's 1.4 GHz and 730 MHz).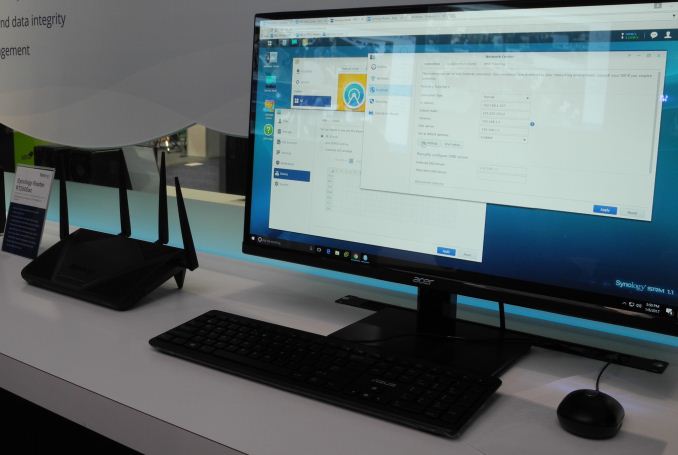 The RT1900ac was praised mainly for its operating system / user experience / add-ons, rather than the Wi-Fi performance. For the RT2600ac, Synology has further fine-tuned the SRM OS (Synology Router Manager). It is also playing up the VPN capabilities. Many Synology NAS owners have taken advantage of the VPN features of the Synology NAS. However, that requires setting up port forwarding in the router, and some challenges related to the subnet configurations that can be accessed from an external network. Placing the VPN server in the router / gateway is the logical solution to the problem, and Synology is aptly promoting their VPN Plus server package for advanced VPN configurations.
Gallery: Synology RT2600ac and Synology Router Manager OS




Other than the VPN features, Synology also supports dual WAN capabilities in the RT2600ac. Readers interested in the detailed specifications can peruse the datasheet (PDF).
Business NAS Products
Synology's DSM is one of the few NAS operating systems to support both btrfs and ext4 for the internal volumes. This allows them to support different business requirements. Their business lineup has benefited quite a bit from this dual file-system support. In order to capitalize further on this aspect, Synology has launched a number of high-end systems targeting SMBs and SMEs.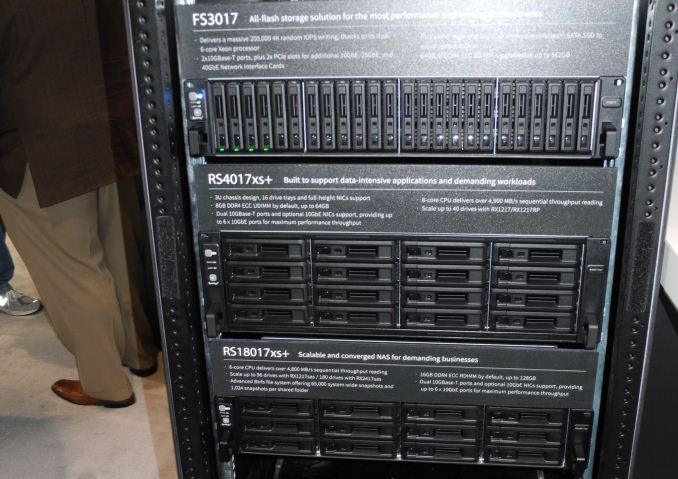 Amongst the new business-oriented NAS products on display was the FS3017 (PDF) – a 24-bay 2U rackmount NAS equipped with two Xeon E5-2620 v3 CPUs and 64GB (expandable to 512GB) of DDR4 ECC DRAM. There are two 10GBASE-T ports, with spare PCIe slots to integrate 10GbE / 25GbE / 40 GbE network cards. Both 2.5" SATA and SAS drives are supported, with the primary focus being delivery of high IOPS for performance-sensitive applications.
The DS3617xs (PDF) is a Xeon D-based tower form-factor NAS with 12 bays. The Xeon D-1527 used in the system is a 4C/8T model. It is complemented by 16GB of DDR4 ECC DRAM (expandable to 48GB). The system also supports two DX1215 expansion chassis (with Infiniband connections). There are only four 1GbE LAN ports, though a PCIe 3.0 x8 slot is available (for installation of 10GbE cards, if needed).
The RS4017xs+ (PDF) is a Xeon D-1541 (8C/16T)-based 3U rackmount with 16 3.5" bays. It ships with 8GB of DDR4 ECC RAM (expandable to 64GB). There are two native 10GBASE-T ports and four 1GbE ports. Two PCIe 3.0 x8 slots are available to add more high-performance LAN interfaces. The system can scale up to 40 bays with two RX1217(RP) expansion chassis.
The RS18017xs+ (PDF) is a Xeon D-1531 (6C/12T)-based 2U rackmount with 12 3.5" bays. It ships with 16GB of DDR4 ECC RAM (expandable to 128GB). There are two native 10GBASE-T ports with four 1GbE ports, as well as two PCIe 3.0 x8 slots for additional network interface cards. The 12-bay unit can pair with up to 7 expansion units (RX1217sas for 84 bays, and RX2417sas for 168 bays) over its single SAS expansion slot.
Gallery: Synology at CES 2017 – Business NAS Units




It is interesting to see that Synology is mainly using the Xeon D SKUs for their rackmounts, compared to QNAP and Netgear's primary push using the tower form factor. The support for multiple expansion chassis with huge bay counts differentiates Synology's Xeon D offerings from the rest of the vendors. It is not clear if IT administrators might prefer a more powerful CPU (like the Xeon used in the FS3017) to handle large number of physical drives, though dedicating some of the bays for cold storage might make Xeon D an attractive solution.
New DSM 6.1 Features
The next version of the Disk Station Manager (DSM 6.1) is slated to come out around mid-Febraruary 2017. At CES, Synology was showing off some of the new features such as Universal Search (couldn't help drawing similarities to QNAP's QSirch). Surveillance Station 8.0 has also been released, and the native Windows client support (also available in a portable version) definitely improves usability. The traditional web view is still supported – so, it is overall a welcome addition.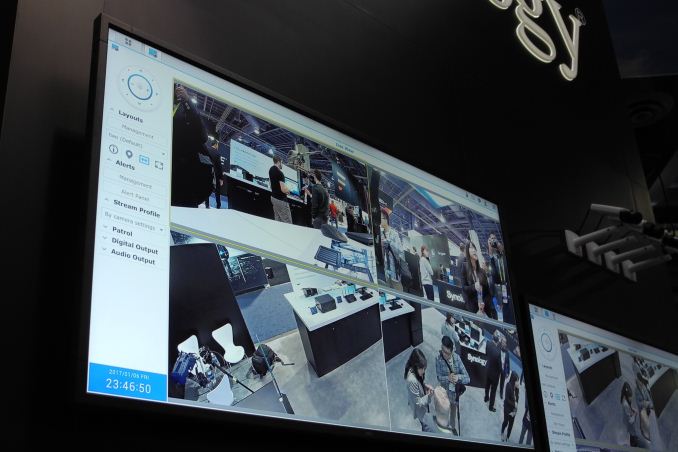 DSM 6.1 also has some features that work exclusively with the Seagate IronWolf drives for better health monitoring than what is done with just S.M.A.R.T alone. The Seagate IronWolf Health Manager (IHM) takes advantage of the hardware sensors and firmware features that are present in the new IronWolf drives.
Synology also played up their frequent security and feature updates to DSM. Having recently set up the testbed to evaluate the software features of various COTS NAS units, I can say that Synology units are the ones that prompt me to upgrade most frequently. I would prefer avoiding the associated reboots, but, there is definitely some peace of mind in knowing that Synology is being proactive in handling security threats. Given the Synolocker issue that affected some Synology users back in 2014, it is good to see the company taking efforts to prevent the recurrence of any similar attacks.
Synology had a number of interesting announcements before and after the show, with the CES booth allowing us to take a look at the products and software features in person. Frequent OS updates and focused hardware launches bode well on the NAS side. On the consumer router side, the shipping of the RT2600ac MU-MIMO Wi-Fi router with a focus on Synology's strengths (VPN and other value additions) shows that the company is in the highly competitive market segment for the long haul.