While technology can lead to exciting new products like self-driving cars and artificial intelligence, it can also improve boring products, such as appliances. Things such as refrigerators, thermostats, and washing machines are getting smarter and better, making day-to-day chores a little less tedious.
One product type that has benefited greatly from advanced technologies, such as machine learning and robotics, is the lowly vacuum. While not a sexy product, it can be essential for keeping floors clean. While iRobot Roomba is probably the most recognizable robot vacuum, Samsung is hoping consumers will choose its new POWERbot VR7000 instead. What makes this vacuum particularly interesting, is that it is compatible with Amazon Echo.
"The POWERbotTM VR7000's Edge Clean Master feature enables the unit to come within a ½ inch (15mm) of the wall. This is achieved by placing the unit's wide 11 inch (288mm) brush — the widest among leading brands — close to the front, so when the unit reaches the wall it can easily gather dust and hair. Additionally, the Auto Shutter feature further meets that demand by automatically dropping down a barrier to help the unit sweep up more dust collected closer to the edges", says Samsung.
The electronics maker further says, "the Intelligent Power Control feature automatically adjusts the level of suction power, optimizing cleaning functions according to surface type. For instance, when it moves from a hardwood floor onto a carpet or rug, the motor adjusts suction power to the surface for optimal performance. And like so many of Samsung's home appliances, the POWERbot VR7000 is IoT-ready, and fully controllable remotely by app. From a smartphone or other mobile device, users can start or stop the machine, schedule cleaning times, and check the cleaning history. In addition, POWERbot VR7000 is compatible with Amazon Echo so consumers can control it using voice commands".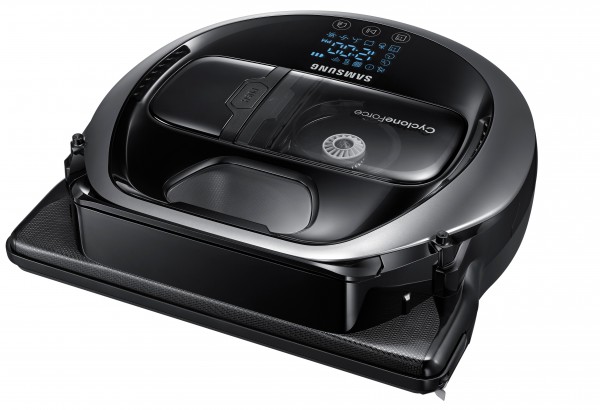 As can be expected from a modern robot vacuum, the POWERbot VR7000 uses mapping to "remember" the details of your home, so that it can clean more efficiently. It can even detect your floor types, such as hardwood or carpet. If you have both, it will adjust itself accordingly as it goes — very cool.
While pricing and availability are not yet known, Samsung promises to reveal more at the Consumer Electronics Show next month. The company will demo the POWERbot VR7000 Robot Vacuum at CES too.